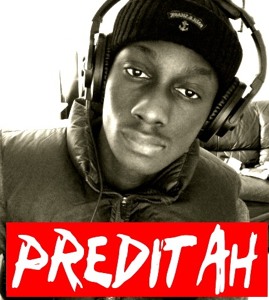 2011 has been a remarkable year for instrumental grime and one that has seen those involved make huge strides in their efforts to boost the profile of one of the UK's most exciting emerging genres. At the forefront of the resurgence has been Birmingham's Preditah, whose music has captured the imagination of both listeners and fellow producers alike right across the electronic music spectrum. A relative unknown at the turn of the year, the release of his excellent debut EP 'Solitaire' back in April catapulted him into the spotlight, with follow up project 'Eightsome' solidifying his position at the top of the grime pile. With lots in the pipeline, I was lucky enough to catch up with him on everything from playing the guitar to the story behind the now infamous 'PRE-DI-TAH' sample:
"There's a lot to say really but to sum up, this year's definitely been about exposure. I haven't actually done anything major or different to what I used to do, it's just been a case of more and more people hearing my music. I've done a few remixes and released the two EPs, 'Solitaire' and 'Eightsome' which I enjoyed. I always said I'd only release an EP when there was enough demand for my music so it felt like the right time to put them out. Now they're done, I've got quite a few lined up for release next year now!"
Although citing Church as one of his most prominent musical influences, it was learning to play the guitar that first opened his eyes to the world of music:
"I grew up in Church so I was always hearing Gospel music but it was when my Nan bought my a guitar for my birthday that I really started to get into it. I taught myself how to play and through learning how to tune it, I discovered programs like 'Cubase' and 'Reason'. Back then, it was more about just giving it a go because I found it interesting but I guess its been a case of natural progression since then really. I'm still learning things about beat-making now to be honest but because of my musical background, I consider myself more of a musician if you know what i mean?"
Preditah describes his sound as 'fun' and 'catchy' and acknowledges the role his excellent 'PRE-DI-TAH' and 'Woah' samples play in the success of his instrumentals:
"My sound is fun and catchy - I can make complicated stuff quite easily but I choose to make tunes that I know will work. The soundbites are part of that - I know people respond well to them so I'll add them where I see fit. They all came about years ago - a friend of mine did an intro for me back in the day and I just sampled the 'Preditah' bit and that was it. I've always used it to identify my beats since I was about 13 and to be honest, I can't recall any other producers who have used something like that consistently which kinda sets me apart."
Despite being held in such high regard by fellow artists up and down the UK, he admits to still finding his whirlwind success 'a bit weird' but credits JME with playing a key role in winning such widespread recognition:
"I think JME co-signing me on Twitter played a big part in it because since then, I've had the scene coming to me asking for tunes really! My manager Jamie Dred also played a key role and made sure I was talking to the right people and that - I've actually had to say no to a few guys but its all worked out pretty well so far. Its a bit weird because I didn't think I'd be here now - I always believed I'd make it in music one day but when it does come your way it is hard to take in. I've had interest from labels but I'm trying to stay humble and focusing on making as much good music I can. I was really happy to produce Roll Deep's latest single 'No MC' thought - that was honestly mad! Looking back, it has been a good year but I'm hoping for a better one next year - I mean I've done remixes with Marger, Frisco and Trim which were all sick to work on but I really wanna take it to a new level next year."
With S-X before him and now the 'Stay Fresh' collective currently enjoying nationwide success, Preditah believes hailing from Birmingham has allowed him to develop his sound with minimal fuss:
"Being from Birmingham hasn't really hindered me in any way - its a second so lots of people tend to copy what they hear in London or in the US but I've just kept myself to myself and done my own thing. I've followed the grime scene for years and just focused on making tunes really. I guess it is the first time I've really had such success but that's no slant on Birmingham - i think I've actually opened the door to the city in a way. Teaming up with Stay Fresh has been cool too - they're all from Wolverhampton and Jamie Dred manages us both so that was always gonna be a natural thing. I didn't know much about them last year but via Twitter and that, we've got together in the studio and its gone from there."
...And in perfect testament to that development, Preditah's highly anticipated 'Eightsome' EP was released on Logan Sama's 'Earth 616' imprint in October to unanimous acclaim:
"It was a very calculated release - I worked on everything people were hyping about at the moment and it all came together nicely. Most of all though, I wanted the EP to show my versatility as a producer - each track has a different vibe you know? 'Nosy Parker' and 'Gargoyle' are hype tunes where as 'The One' is a lot more chilled out and even 'Big Mikee' is dark but less in your face - you can see I've used all sorts of beat patterns and really tried to mix it up. Its good to see that everyone who's bought it and given me feedback so far has really liked at least one tune as well. Its a bit weird because no one seems to like the same track either - one person will like 'Nosy Parker' but then the next person will be like 'Ahhh nah 'Hectic' is sick!"
Alongside his work in the studio, Preditah is also an excellent deejay, something he considers very important in an increasingly competitive scene:
"Deejaying is something you just have to learn to do - i always say that if you make music, you should know how to play it out too. I've been deejaying for about 5 years now and I really enjoy playing at venues all over the country, its good fun. At the minute, my whole selection seems to be 'Preditah' though, just because the demand for it is there. I've got a few specials and VIPs that I save just for the raves and seeing people's reactions is priceless, I love it. I'm looking forward to hopefully doing a lot more of it next year."
Despite an incredible 2011, Preditah is targeting even more success next year and admits he's willing to branch out too:
"I'm a music composer by nature so me only doing grime instrumentals for the next 5 years just isn't gonna happen. I'll still be looking to keep the same flavour out there, doing the same sorta stuff but I wanna explore other genres too. I think with the buzz I've got at the moment, it'd make sense to experiment and show people what I'm really capable of. When you look at guys like S-X and how far they've come, the sky is hopefully the limit."
& Don't forget to keep your eyes peeled for Preditah's 'Circles' EP due for release on Earth 616 in November!