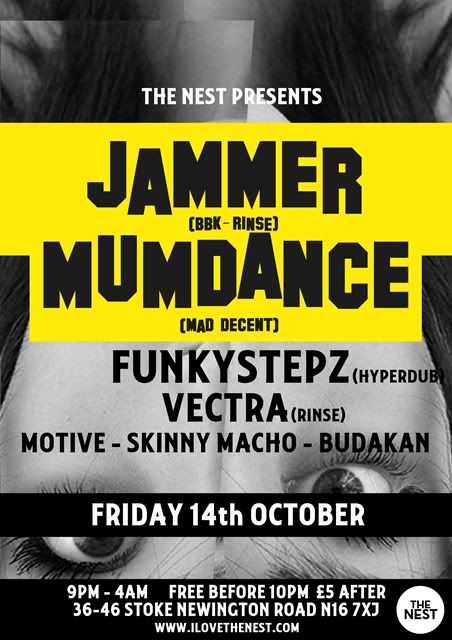 Yet another intriguing night at The Nest beckons as Uncle Albert found out after discovering this in his inbox:
"Friday 14th October welcomes the sounds of funky and grime to The Nest's basement dancefloor. With a seven strong line-up of producers and DJs intent on maintaining the underground spirit of British bass music, The Nest presents welcomes grime forefather, Boy Better Know member and regular Rinse FM host, Jammer to headline proceedings. With various projects under his belt, including curating the return of grime's Lord of The Mics MC clash and working towards a second solo album, Jammer's unique flows bring an old school feel to 2011's current grime output.
At a time where eclecticism is celebrated and that 'what do you call it?' electronic sound is changing the fundamental rules of dance music, Mumdance is the guy paving the way for the scene's 'cross-breeding' culture. As a DJ he's just as much at home playing a Dirty Canvas grime rave as he is a nu-disco set at a Bugged Out! party, and as a producer he's collaborated with the likes of Canblaster, Jammer, Brodinski, Drums of Death and Esser. He's known for bringing both captivating energy and high-jinx to his sets (especially when Jammer's on the mic) so he's sure to have our basement brickwork rumbling on 14th.
Since Funkystepz's 'Fuller' release on Kode 9's Hyperdub imprint, the crew's loop-based strain of underground house seems to have brought a revival to the UK Funky crop. Their beats are hard, their sets are uncompromisingly dance floor focused and the end of the year is looking neon bright for the London based outfit. Joined by Vectra, who's daytime Rinse FM slot champions the best in vocalled grime and contemporary instrumentals, the bill is already shaping up to be a rave of cataclysmic proportions.
With Don't Watch That TV's Motive, Blackfoot Phoenix's Skinny Macho and our longstanding club resident, Budakan also on board, we're kicking off The Nest's second year as we mean to go on."
The Nest Presents Jammer, Mumdance, Funkystepz & Vectra // Friday 14th October
Free Before 10 / £5 after (ID required)