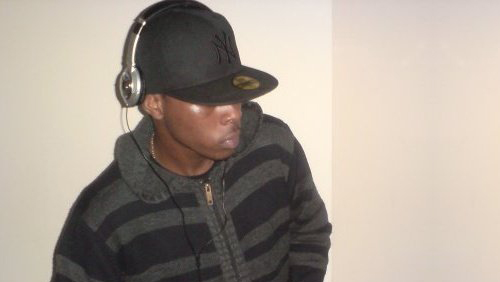 After bursting onto the UK Funky scene back in early 2010, Champion has gone on to establish himself as one of bass music's finest up and coming producers. Despite his Funky credentials, Champion's potential was recognised and subsequently harnessed by Terror Danjah after an unlikely phone call saw the two come together to release his debut EP 'Motherboard' on Terror's 'Hardrive' imprint. Since then, Champion has also formed unlikely ties with the all-conquiering Butterz label and is set to play alongside the likes of Swindle and Royal-T as well as Elijah & Skilliam at Cable in August. With plans for his own label firmly in place and a whole host of new material in the pipeline, I managed to catch up with him on everything from first hearing Wiley's 'Eskimo' to refusing to embrace Serato:
"It all started with 'Bad Girl' really - that was arguably the tune out in 'Napa in 2010, everywhere you went you were guaranteed to hear it. I actually went out there and shot the video for it and released it on ITunes when I got back - it got a really good reception and the video even made it to number 7 on the MTV Base video chart, as well as the tune itself getting play-listed on Kiss and 1Xtra. I was with NVA management at the time but ended up parting ways in the end - no particular reason for it, I just had a different view of where I wanted to take my music and that was it. About that time, the whole Terror Danjah / Butterz thing came together - I knew Terror was a fan of my stuff but it came about when Pioneer said I should phone him and see what he's saying. From there, we just got talking and soon I had an EP ready and that was that - the 'Motherboard' EP came out in May and did quite well so I was pleased.
Besides all that, i've been thinking about setting up my own label for ages now and I've finally started to put things in place for 'Formula Records' which I'm hoping to launch in the not too distant future. I've also done quite a few remixes this year - I've done an official remix for the Sugababes, remixed a Chipmunk & Tre Songz track and a few bits for a new group signed to Universal called Encore. I've worked with Ruby Lee Ryder on 'Sensitivity' as well which has got really good feedback so that might get a release at some point. I've been hitting up the bookings too - Fabric's been treating me quite nicely and I only got back from a booking in Sweden a few weeks back. Hoping to get over to Outlook festival to support the team as well!"
Despite the variation in his production, the vast majority of Champion's work is heavily bass-driven, a key component of what he calls the 'Champion sound':
"It might sound a bit cliche but I make the Champion sound (laughs). In all seriousness though, that is near enough everything summed up in two words. I never really have a market in my head when I sit down to make a tune, I just gather whatever inspirations I have at the time and whatever is in me comes out via the program I'm using - that's literally it! A lot of my tracks are bass line driven which says a lot about my taste but influence wise, I guess you might notice a subtle Jamaican element to some of my tracks. I actually tend to favour a good slow-jam vocal over a hard-hitting, gritty instrumental - I just fuse the two things I love! Can't beat a sweet, female voice over a really energetic, punchy bass line."
Musically, Champion explains he draws inspiration from all over the place but accredits Garage and early Grime for really capturing his imagination:
"
I take inspiration from everywhere but the key time for me was late Garage / early Grime. I loved Sticky and Wiley and guys like Jon E Cash - they were the people that made me think, 'Shit, I've gotta make my own music'. I loved the whole vibe of the time you know? I remember hearing 'Eskimo' for the first time and I just thought, 'Nah, fuck off' - it was just nuts. I'd never heard anything like it and to this day, I still don't think I have. Jon E Cash's 'War' was another one too. I was actually already deejaying at the time but they were the tracks that made me want to produce, although I didn't actually take to it until Lethal B released 'Forward' back in 2004."
With regards to contemporary electronic music, Champion is an advocate of everyone coming together to make music that knows no conceivable boundaries:
"I like the way things are at the moment - there are no boundaries on what people can or can't make anymore. Everything merging together allows for a lot more creative freedom, which is only ever gonna be good for the producer. I could literally wake up tomorrow and make a tune at 80 BPM and no one would think anything of it. Bookings wise it makes a difference too - one day I could be on a Dubstep bill and the next, I'm playing alongside Butterz!"
Although he admits it took him by surprise, Champion sees his involvement with the Butterz imprint as more about sharing a common interest in good music:
"The Butterz link up was in no way forced or anything like that - I'd not actually heard of them and didn't know what they were about until we started to work together. It came about through working with Terror and all just fitted together nicely. I actually found out that they knew of me before Terror did, back in 2009 when 'Tribal Affair' had just kicked off but they chose to just watch from the sidelines for a bit. It all started with them stocking some of my test presses on the Butterz Boutique and it hasn't stopped since. I consider us all as just guys who share a common interest and common goal with regards to good music though - its not a forced movement or anything like that. As a label though, they're doing big things for the Grime scene - they've taken the scene and moulded it to how they think it should be. In a word, sick."
As a deejay, Champion admits he takes an old-fashioned viewpoint when it comes to deciphering exactly what it is that constitutes a good night:
"I've got quite an old school view on raves - for me, the deejay has to be the fuel of the rave regardless of where it is or who's in the crowd. In saying that, the best nights for me have been in the smaller venues. I've played Alibi in Shoreditch three times now I think and every one has been a complete shut down. The vibe in places like that is just next level - i can play certain tunes there that don't get the same reaction anywhere else. I remember dropping Mosca's remix of T Williams' 'Heartbeats' tune with Terri Walker on the vocals and everyone went absolutely sick - I swear I've never seen anything like it!You can't beat that house party vibe for me. I find in bigger clubs you're more removed from your audience so you don't feel as in touch. For me, Cable is probably my favourite club - it's like a cross between Fabric and Alibi. It's got the size and prestige of Fabric, but that mad vibe that Alibi has."
Although he began deejaying solely on vinyl, Champion admits that it faces an uncertain future in the clubs:
"I started deejaying strictly on vinyl so I'll always have love for it - convenience wise though, it's just not the one. You can turn up to a booking with thousands of tunes just in one CD case where as with vinyl, you're carrying boxes and boxes of the stuff and it can't conceivably be done anymore. I refuse to take to Serato though - I'm a CD man and that's that! Having said all that, vinyl does sell so but I think that's more to do with people wanting to collect it as opposed to playing it out. Big at home but dying out in the clubs I reckon. It can never be replaced but it can't compete with CDs and MP3. "
With high hopes for the launch of 'Formula Records' and various projects on the go, Champion is keen to push the sound as far as he can over the coming months:
"I've got a few surprise EPs on the go that I can't really talk about at the moment that will be revealed soon and there are some interesting collaborations on the cards too. Bookings are a big priority though - I want to take the sound as far and wide as I can and let people know what's killing the raves here in London. That's my main aim I guess, to take the scene and share it with as many people as possible. Obviously it'd be nice to make a good living off of it but for me, it's more about the music and sharing the experience. I've obviously also put quite a bit into my label which I'm hoping in time, can be the home of underground UK Bass music, a real outlet for people wanting to here what our scene is getting up to. The first release is gonna be the 'Lighter' EP which will be out in the coming months. My next EP for release though is actually a joint project with Andy J and ST - its got DJ Q on the flip and also a Terror Danjah remix but I can't say when that's due out just yet! 'Sensitivity' with Ruby Lee Ryder is also crying out for a release so hopefully that'll happen. Besides that, I guess you can expect some interesting stuff! Ah and I can't forget that I got drafted by Coda about 3 weeks ago too, all of the back of the work I've done this year. I'm quite proud of that!"
DETAILS: